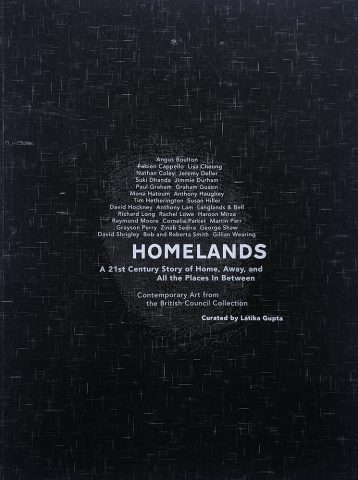 Cutting to the heart of 21st century cultural relations, Homelands grapples with the relationship between self and place in a world of transitory identities and contested geographies.
Drawn from the British Council Collection, the exhibition is a unique take on contemporary British art by the Indian curator, Latika Gupta. Including more than 80 works by 28 leading modern and contemporary artists – the exhibition excavates the idea of a 'homeland' to reveal a rich plurality of meaning; ideas of belonging, alienation, history and memory.
Catalogue edited by Latika Gupta and including essay excerpts by writers such as John Berger,  Judith Butler and Gayatri Chakravorty Spivak, and poetry by Tenzin Tsundue; Tsoltim N. Shakabpa and Bhuchung D. Sonam.
Published alongside an exhibition opening at IGNCA, Delhi (January 2013) then touring to The Harrington Street Arts Centre, Calcutta (March 2013); Dr Bahu Lad Museum, Mumbai (April – June 2013); NGMA Bengalore (June – July 2013).
Publisher: British Council, 2013