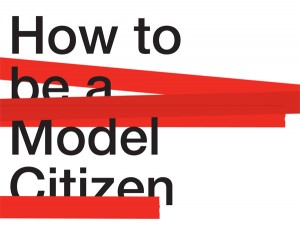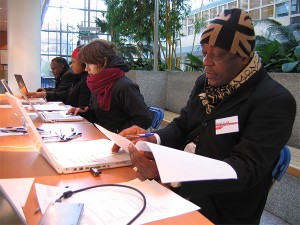 How to be a Model Citizen is the culmination of a three-year partnership between artist, Anthony Haughey and the Global Migration Research Network – a group of diverse individuals who came to live in Ireland (north and south) during the recent economic boom. Exploring often contentious issues relating to citizenship and contested spaces, the group has worked together and individually with the artist over the last three years in Malta, North Africa, and Ireland. Together they have produced a number of dialogical art and media projects: installations, exhibitions, video works, television broadcasts and intercultural public discussions. Setting up a temporary space within the Atrium of the Civic Offices, the Global Migration Research Network will invite visitors to test their knowledge of citizenship by posing a series of questions in relation to democratic institutions and civic society in Ireland. The group will simultaneously research these questions online in relation to the process of becoming a citizen in Ireland and elsewhere. Key video works from earlier collaborations will also be shown. The group's findings on this occasion were included in a book published in March 2009, designed in collaboration with Detail Design Studio, Dublin.
Take the citizenship test here
Extract from the essay How to be a Model Citizen
'I am haunted by a photograph published in the Guardian and the Times on May 28th 2007. The photograph depicts the horrific plight of twentyseven African migrants clinging to a tuna pen in the Mediterranean Sea. These "irregular migrants", as they are referred to by the Maltese government were literally hanging on for their lives after the boat they were traveling in sank half-way between Malta and Libya. Meanwhile the governments of Libya and Malta argued over who was responsible for their rescue. One of the oldest humanitarian maritime laws clearly states that it is, "an obligation to provide assistance, regardless of nationality or status of persons in distress at sea." The twenty-seven migrants were eventually rescued by the Italian Navy and taken to the Italian island of Lampedusa. The shipwrecked Africans had spent three days in open seas. Nearly 6000 immigrants have died on the Frontiers of Europe since 1988. Among them 1,883 have been lost at sea in the Sicilian Channel between Libya, Tunisia, Malta and Italy. Migrants pay unscrupulous smugglers 1,500-2000 euros to travel by floating coffin from North Africa to Italy. The journey can take more than five days in vessels inadequate for the task, usually wooden fishing boats often with more than fifty men, women and children on board. In a recent essay Martin McCabe suggested that we might be forgiven for thinking that borders in Europe do not mean much anymore, he comments, "Of course that depends who you are and where you are. 'Fortress Europe', with all of its medieval connotations, is still a powerful and structuring ideological formation at work in Union policy. The bodies of young African men being washed ashore on the beaches of Lampedusa near Sicily are testament to this."'
Download the 'How to be a Model Citizen' essay (PDF 460Kb).