Weekend Section The Irish Times – Saturday, December 24, 2011,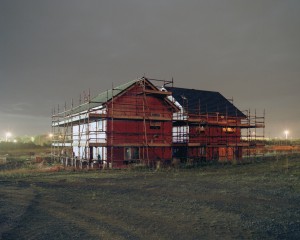 Anthony Haughey's photographs of ghost estates
A lot of the interesting visual art this year seemed to concern the liminal spaces at the edges of towns and cities, Patricia Burns's Hinterland paintings at the Triskel in Cork (published as a book by Gandon) being an outstanding example. But the most potent images are probably Anthony Haughey's extraordinary sequence of photographs of ghost estates and abandoned building projects. Captured in the very low light of day's end, they glow eerily with what Wordsworth called "the light of setting suns", giving them the mythic feel of ruins from a lost civilisation. Though, in this case, "civilisation" may not be quite the right word.