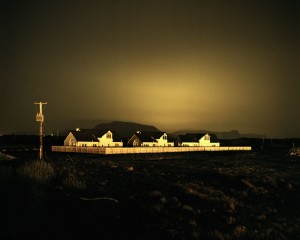 Settlement charts the fallout from the collapse of Ireland's 'property bubble', a result of the overheated Celtic Tiger economy. For this exhibition Anthony Haughey has created an installation in Fire's new Copper House Gallery, which reflects the financial, ecological and domestic impact of Ireland's economic collapse. His installation will incorporate a collaboration with some of Irelands architects – in association with DIT Department of Architecture and Urban Design, NAMAlab, UCD School of Architecture and Mahoney Architects – who have proposed visionary plans for abandoned and half-finished buildings currently littering the landscape. These architectural proposals will form part of the installation in the gallery and will also be viewable in their site- specific context by using a freely available smartphone app (QR reader) to scan a QR code fixed to the hoardings of various NAMA building sites around Dublin city.
The photographs in Settlement are produced in the half-light between sunset and sunrise. The combination of darkness, artificial light and long exposures draws attention to the destruction of the natural environment as a result of over development. In this ongoing series, these ghost estates are recast as eerie 'monuments' – testament to the end of Ireland's gold rush and the resulting cost of unregulated growth and institutionalised speculation. More recently, Pyrite was discovered as a component of hardcore under the foundations of more than 20,000 new homes in north Dublin and Co. Meath, resulting in serious structural damage. Pyrite also known as 'fools gold' is a tragic but fitting metaphor for this exhibition and the demise of Ireland's speculators.
Exhibition links and Press Reviews
Exhibition website: View it here 
YouTube tour of the Settlement exhibition at The Copperhouse Gallery: View it here
26.10.11 BBC News Europe View it here
27.11.11. AlJazeera news feature on the Settlement exhibition: View it here  
15.11.11. RTE broadcast, Settlement feature on The View: http://www.rte.ie/tv/theview/archive/20111115.html
Press Review 1:  http://thecopperhousegallery.wordpress.com/2011/11/15/settlement-by-anthony-haughey-review-by-fintan-otoole-for-the-irish-times-2/
Download The Irish Times, Fintan O'Toole review of Settlement here (pdf 664kb).
Press Review 2:  http://thecopperhousegallery.wordpress.com/2011/10/25/settlement-caught-through-a-ghostly-lens-by-the-irish-times/
Download The Irish Times, Frank McDonald review of Settlement here (pdf 508kb).